Frequently Asked Questions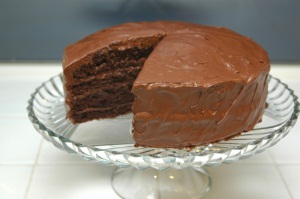 Q: What is Bakersware® made of?
A: Bakersware® is made of a highly engineered complex crystal polymer to provide you with all the benefits of metal pans or silicone pans with none of their drawbacks. Because Bakersware® has inherent easy-release properties, it does not have a surface coating, so it will never flake or peel.


Q: Where can I use my Bakersware®?
A: Bakersware® is dishwasher safe, microwave safe, freezer safe, and oven safe (conventional or convection) up to 500 degrees. Bakersware® can go from the freezer directly into a preheated oven or microwave without any thermal impact on the pan.


Q: Does Bakersware® contain BPAs or other harmful chemicals? I've heard that some plastics contain BPAs, and should not be heated when they contain food.
A: No, Bakersware® is free from BPAs and other harmful chemicals and will not off-gas when heated. It is FDA approved for use in food contact and baking applications.


Q: Do I need to grease my Bakersware® pans?
A: Bakersware® has inherent easy release properties. While greasing and flouring typically are not necessary, light cooking sprays can be helpful when baked products will be removed from the pan for presentation purposes to ensure a clean release.


Q: How do the thermal properties of Bakersware® affect how long I bake my recipe?
A: Bakersware's® thermal properties promote quick and even heating and cooling of the pan. We have found that most recipes using Bakersware® pans take about 10 – 20% less time to fully bake. Cooking times will vary depending on your oven and your altitude, so it is recommended to check your product early to prevent overbaking until you determine what works in your situation.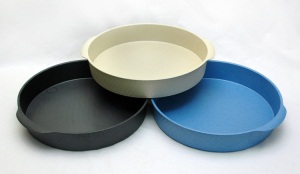 Q: Is Bakersware® dishwasher-safe? How do I clean my Bakersware®?
A: Bakersware® cleans up so easily that you will likely wash it out by hand, but it is absolutely dishwasher safe on both the top and bottom rack.


Q: If I microwave a cake or brownies, how can I tell that it's 'done?'
A: Every microwave is different, so baking times may vary. Our experience has shown that once the food begins to pull away from the sides of the pan it is at the "beginning of done". Some people will remove the pan at this time and others will continue to microwave the recipe up to 1 – 2 minutes longer depending on the item being microwaved. Microwaved cakes do not brown, but will appear mostly dry on the top when they are fully cooked.


Q: Why would I want to microwave a cake or brownies instead of cook them in a conventional oven?
A: While Bakersware® can be used in both the oven and the microwave, the benefits of using a microwave include:
no preheating of oven required, using less energy and eliminating extra heat in your kitchen in warmer seasons
much faster cooking times (7 min vs 45 min for brownies)
moister food product with amazing texture
convenient when you want to eat or serve something quickly
Q: What is the best way to get a cake or other baked product out of a Bakersware® pan?
A: We have found that a cool down period of about 5 – 10 minutes is helpful for removing cakes from Bakersware®. We generally cool the baked goods for this time period, then turn the pan upside down onto some sort of receiving platter for an additional 3 – 5 minutes. The baked goods will have generally come out of the pan at the end of 5 minutes of inverted rest. Larger items such as loaves of bread can be removed immediately, although we allow about a 5 minute cool down period to allow the bread to set up a bit before we remove it from the pan.


Q: Can I use metal utensils on my Bakersware®?
A: One can safely use metal utensils on Bakersware®. Metal utensils, especially serrated knives may scratch the surface of the pans, but scratches on the surface will not affect the performance of Bakersware®, as there is no coating to wear, flake, or peel off.


Q: Can my Bakersware® go straight from the freezer to a hot oven without damaging the pan?
A: YES!


Q: I know Bakersware® is a US company, but is Bakersware® actually made in the USA?
A: We are proud to state that Bakersware® is manufactured completely in the USA! Buying Bakersware® supports American manufacturing companies.


Q: I have some minor staining on my Bakersware®. How do I get it out?
A: Bakersware® is generally resistant to stains, but occasionally will retain a minor stain. Soaking your Bakersware® pan in warm water with dishwashing detergent, then scrubbing gently with common scouring pads will usually remove the stain.


Q: What are the limitations of Bakersware®?
A: Bakersware® is breakable if you try hard enough and is not for stovetop or direct heat contact. As noted earlier, one can safely use it in consumer ovens up to 500° F. Some commercial hybrid ovens can exceed this temperature and therefore Bakersware® should not be used in such ovens. Dropping them repeatedly off your counter is also not recommended.


If you have any additional questions, please feel free to email us at sales@bakersware.com, and we will be happy to answer them for you. We know you will LOVE Bakersware®!!