Recipes
Ingredients:
2/3 cup wild rice, washed, soaked overnight and drained
1 lb. ground beef
1 lb. ground veal
4 carrots, peeled and grated
2 onions, chopped
1 Tbl mustard
1 ½ tsp salt
½ tsp black pepper
2 eggs, slightly beaten

BBQ Sauce:
¾ cup tomato ketchup
2 Tbl worchestershire sauce
2 Tbl clear honey
1 Tbl lemon juice
½ tsp chili powder
½ cup water


Directions:
In large mixing bowl combine all ingredients for meatloaf. Mix and knead the ingredients well. Spoon mixture into 12" Bakersware™ loaf pan. Smooth top with spoon. Place in center of the oven and. Bake for 75 – 90 minutes or until juice runs clear when loaf is pierced with sharp knife.

Prepare BBQ sauce:
In sauce pan combine all the sauce ingredients. Place pan over high heat and bring liquid to a boil, stirring constantly. Boil until liquid has reduced by 1/3. Remove pan from heat, pour sauce into a warmed sauceboat and keep hot.

Remove loaf pan from oven and pour off excess fat. Turn out loaf onto warmed serving platter. Serve immediately with BBQ sauce.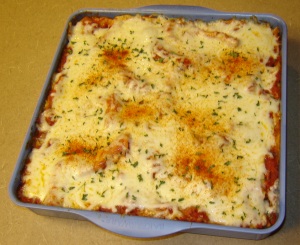 Ingredients:
1 box (9 oz) of your favorite brand of uncooked Lasagna
2 eggs 16 oz shredded mozzarella cheese divided ( I use more because I love cheese)
1 container (15oz) ricotta cheese or cottage cheese
I use lowfat cottage cheese here.
1/2 cup (2oz) grated Parmesan cheese
1 Lb. bulk Italian sausage or ground beef (cook, crumble and drain)
For vegetarian Lasagna I use Boca or MorningStar substitutes here.
For faster results use 2 jars of your favorite brand marinara sauce.

Preparation:
Preheat oven to 375 degrees F. For this recipe I use two of the 9" square pans. I make two pans of lasagna. One for dinner tonight and one I cover and place in the freezer for a later time. This is one of the reasons I have grown to love Bakersware so much, you can bake and freeze in the same pan. When ready to reheat, remove from the freezer and place the pan of lasagna in the microwave. In a few minutes you have great lasagna. You will need 16 sheets of no boil lasagna. 8 sheets for each pan.

Directions:
In a medium bowl, beat eggs. Stir in Ricotta (cottage cheese), 2 cups of mozzarella and the Parmesan. Cover the bottom of each pan with marinara sauce, cover with 4 sheets. Add 1/2 of ricotta mixture and 1/2 of browned meat for each pan respectively. Add 1/2 cup of mozzarella, then add 1/2 cup of marinara sauce. Then cover with 4 more sheets. Split the remaining sauce between both pans and divide the rest of the mozzarella between both pans. To cook and serve: Bake, covered with foil until bubbly, 40-50 minutes. Uncover and continue cooking until cheese is melted, about 5 minutes. Let stand 15 minutes before cutting. ENJOY!